Global Mega Trends Shaping our New Reality
Event Date:
Start at 1:00 PM
April 30, 2022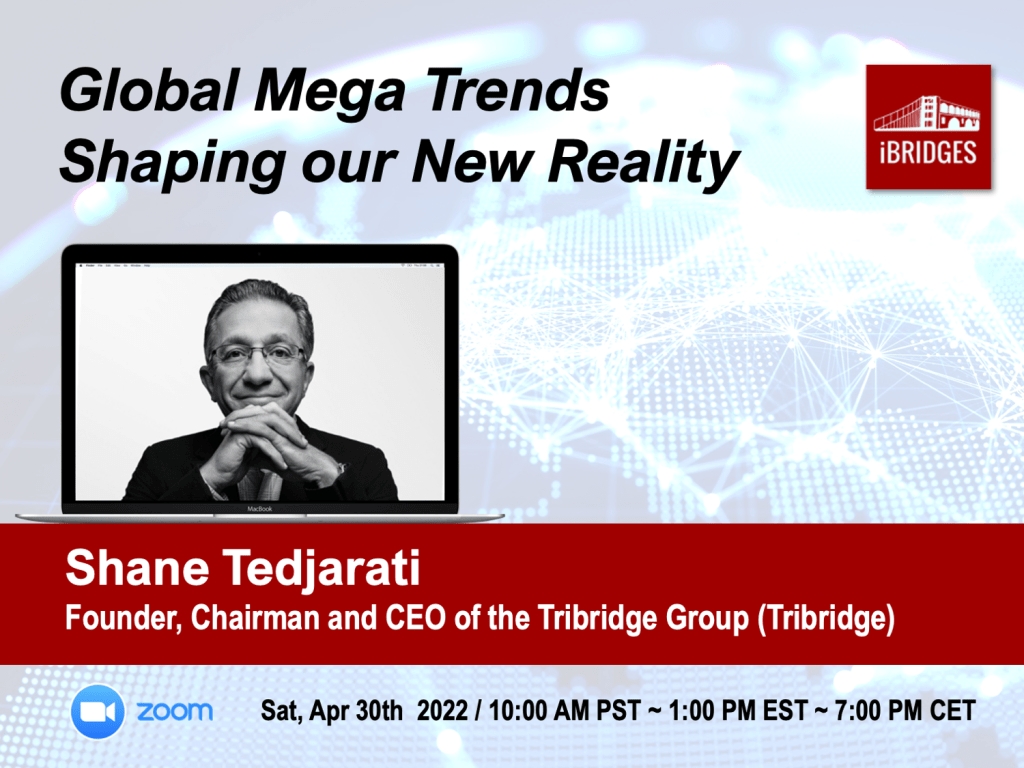 iBridges Virtual Meeting Series

Topic: Global Mega Trends Shaping our New Reality
Guest Speaker: Shane Tedjarati
Date: Sat, Apr 30th 2022
Time: 10:00 AM PST ~ 1:00 PM EST ~ 7:00 PM CET

Registration Link: zoom.us/j/83468603337

About the Speaker:
Shane Tedjarati is the founder, Chairman and CEO of the Tribridge Group (Tribridge), Chairman of VS Partners LLC (VS Partners) and Senior Advisor of Honeywell International (Honeywell).
Shane is a seasoned and highly respected business executive with over 35 years of experience throughout the globe, including more than two decades spent in Asia in general and China in particular.
Shane was the President & CEO of Honeywell Global High Growth Regions (HGRs) from 2012 to 2021. He was the architect of Honeywell's globalization drive which transformed the company into the world's leading and largest industrial technology firm, driving the lion's share of its growth from the emerging markets of the world. 
Prior to Honeywell, Shane spent 20 years in information technology and management consulting and was President of Deloitte in Greater China from July 1999 to August 2004, during which he worked with Chinese state-owned enterprises and multinational corporations to help them formulate and execute strategies for sustainable growth in China and abroad. Shane started his career as a computer scientist with leading technology firms such as Oracle.
Shane is a Henry Crown Fellow of The Aspen Institute and the co-founder of its Middle East Leadership Initiative and China Fellowship Program. He is a member of the Advisor Council of UC Berkeley AMENA (Asia, Middle East & North Africa) Center for Entrepreneurship & Development and industry Co-Chair of China Leaders for Global Operations(CLGO). And also a special economic advisor to the Chongqing and Wuhan Mayors. 
Shane is a global thought leader and frequent speaker on issues related to business, technology and leadership. He also serves on the board of leading multi-national and regional firms that consistently deliver strong business performance in North America, Europe and Asia.
Tedjarati is an Independent Non-Executive Director at Shui On Land, a premier listed property company in Hong Kong and China.
He is an avid aviator and speaks six languages. He divides most of his time between Shanghai, Hong Kong, Dubai, London and the San Francisco Bay Area.